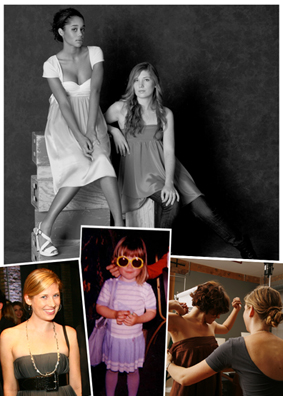 About Elise

Chicago native Elise Bergman launched her eponymous label in July of 2006 with a rack full of handmade, one-of-a-kind pieces. This first batch of dresses, made primarily from vintage fabrics, sold out almost immediately after she opened the doors to her small, seasonal boutique in Lakeside, Michigan. Elise returned to Chicago in the fall of that year to pursue her business full time and has found continued success in her growing brand. Her collection can be found in a handpicked selection of fine boutiques nationwide.

During the early stages of her company, Elise constructed each unique piece by hand out of her home studio. The demand for herdresses quickly outgrew the rate in which she was able to produce them. Now, she is joined by a talented team of independent seamstresses and tailors from in and around the Chicago area. Elise is committed to using local production and skilled craftsmanship,paying fair wages, and staying involved in every single step of her business. Each item in the collection is a limited edition piece, handmade with the highest quality construction and materials. Whether she cuts and dyes the fabrics or sews an entire piece, Elise stillhas a hand in every item she ships.

While a Chicagoan through-and-through, Elise spent the past two winters living in the mountains of Montana. The rustic outdoors andfast-paced, sophisticated urban environments are equally inspirational to Elise. When designing, she keeps both city and countrygirls in mind. She uses luxurious silks and pairs them with organic cottons, hand-dyed or hand-woven natural materials, and rare vintage fabrics. She designs multi-functional pieces that are classic and elegant with a sustainable, feminine, and youthful twist.

A family-taught sewer and self-trained designer, Elise has been designing since childhood. She graduated from the University of Michigan, Ann Arbor with a BA in English Literature and four years worth of photography, metals, and textiles classes in their School of Art and Design. While in school, Elise was a photo editor at The Michigan Daily and won a number of awards for her photographs and illustrations. Prior to college, she spent a summer studying jewelry and metals at the Rhode Island School of Design in Providence. In 2008, Elise had the honor of showing her collection at Gen Art's Fresh Faces in Fashion presentation in Chicago's Millennium Park.